The Winter Olympics have now closed. The host nation Russia walked away with both the most medals and the most golds. The increase was pretty dramatic. Russia only managed to pick up 3 gold medals in Vancouver but napped 13 in Sochi. Canada, while lacking the home country bounce they had in 2010, continued to be a top competitor. Norway had another good games reinforcing the fact that their meager haul in Turin 2006 was just an aberration.
A lot of pundits have called this year's games a huge disappointment for the USA (ESPN: Team USA disappoints in Sochi). However, by historical standards the 2014 games were pretty standard. The USA pulled in the same number of gold medals as 2010, 2006 and only one down from our all time high in 2002 (which we hosted). In both the Summer and Winter Olympics consistency seems to be the name of the game for the United States as I pointed out in my first summer Olympics post. Though, as I mentioned before, the number of events and medals have been increasing so in terms of the percent of gold medals the United States is slipping.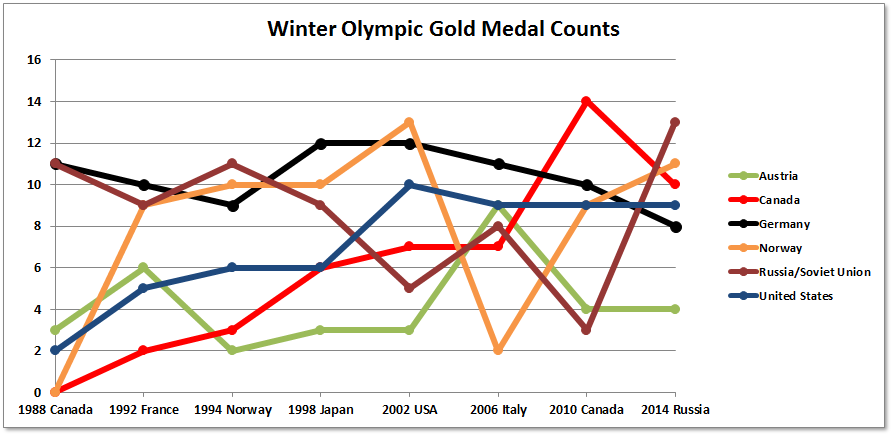 The total medal counts show pretty much the same story. The United States failed to defend their total medal lead – however, hopefully this time it won't take us 78 years to be back on top! As with the Summer Olympics it appears that the home-country bounce is more pronounced in the count of gold medals rather than number of total medals. To me this is counter-intuitive and is begging for some good statistical analysis to investigate potential systematic judging bias in favor of the home country. Perhaps if I find myself with some extra time (highly unlikely) I can look into that.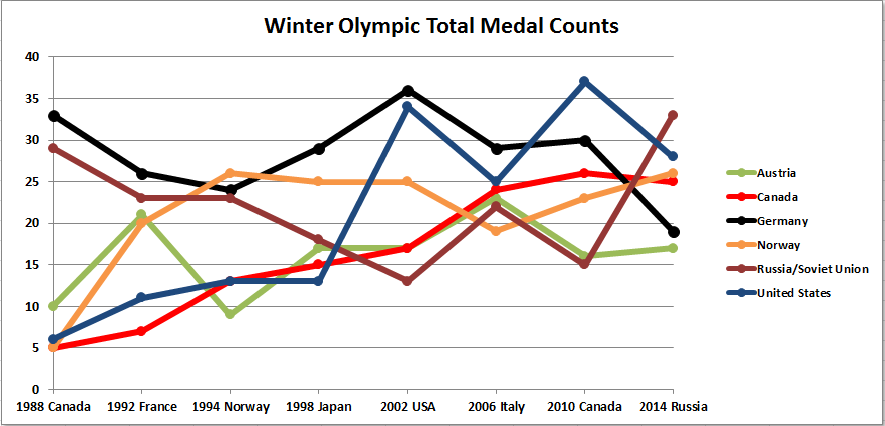 Unlike host country Russia, Germany continued to struggle to regain their passed Winter Olympics glory. They took home the fewest gold medals since 1972 (combining East and West) and fewest total medals since 1968! (See the German/Russian dominance in my original Winter Olympics post)
Probably the most surprising country was the Netherlands. Because historically they were not a big player, I did not even include them in my charts. At one time they led the total medal count and finished with 24 medals and 8 golds. Previously the Netherlands' highest haul had been 11 medals and 5 golds  (1998) and in 2010 they took home a total of 8 medals.