Some thoughts on the results of the 2018 Olympics:
Most pundits agree that this was a disappointing for Team USA. The haul of 23 medals is 5 fewer than 2014 and 14 down from 2010. The USOC had set a target of 37, with the expectation of at least 25, and the hope of up to 59. This decline is total medals is more severe when you consider that many of the medals were in US friendly events that previously did not exist (11 from snowy pursuits snowboarding and freestyle skiing). The USOC walked away with the same number of gold medals they have received since 2006 – 9, with 2002 only being one higher.
However, despite the shortfall in total medals, Team USA did have some notable victories: First, the women's hockey team. As someone who attended two schools where hockey is the major sport (Colgate and Cornell… go Colgate!) I really enjoy hockey. I watched the utter heartbreak of the US women's 2014 loss, made extra difficult by the fact that in the Olympics there is no "get 'em next year". It's get them in 4 years… This year the gold medal game lived up to the hype, including the final outcome. Second: the improbable victory in curling beating out both Canada and Sweden (which is another recent event predicted by the Simpsons more).
Here are some assorted notables:
Norway, Germany and Canada had great Olympics.
For Germany, it is return to form, after a bit of a slide from 2002-2014.
For Canada, it demonstrates that 2010 was not just a fluke and their rise to prominence is likely here to stay (unexpected losses in both Men and Women's hockey, and Curling aside).
A historical note: It is crazy to think that in 1988 the sum total of golds for Canada, Norway and the USA was 2 (4% of the total). Lately it's been around 33% (including this Olympics)
Russia/OAR dropped down to 2 golds. Some of it was undeniably the ban, but their haul of 13 in Sochi was a bit of an anomaly. They took home 3 in 2010 Vancouver
South Korea did not seem to receive much of a hosting bump. Their gold medal total was between their 2014 and 2010 count, and their total medal count has been steadily increasing since 2002.
Here is graph of the total medal count over time: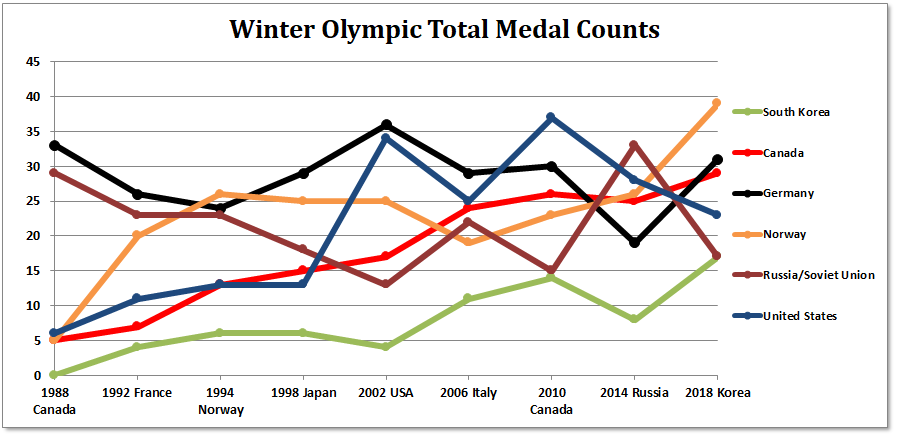 And here is the gold medal count over time: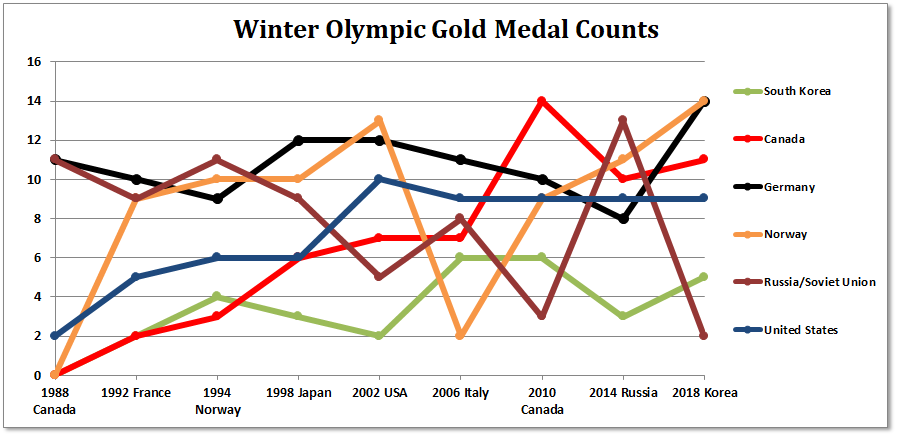 1. The other prediction being the Trump presidency, which they predict will be followed by Lisa Simpson. Interestingly, Ted Cruz just argued that Lisa is a democrat. ↩